THE HISTORY OF TTM
In the search for a DJ orchestration tool
In 1997, while filming the turntablist collective The X-ecutioners in their first studio sessions ("X-impressions", Asphodel Records), documentary filmmaker John Carluccio found himself struggling to communicate an idea he had for a turntablist team routine. Drawing on his background in architecture and media, he instinctively began to scribble down a variety of line patterns to convey his idea to the turntablists. Though improvised, the intuitiveness of his approach immediately enabled him to communicate accurately. The effectiveness of this first notation encouraged John to pursue the idea of graphically representing turntable-based music.
In many conversations with turntablists including DJs Apollo, Rob Swift, Babu, and Q-bert, John has been inspired by shared visions of a day when a tool or method could offer DJs a greater capacity for orchestration. John began to share his scratch notation system with DJ colleagues and by early 1998 music and tech magazines began to document and report on the design of Carluccio's DJ transcription system.
In 1998 John collaborated with industrial designer Ethan Imboden, to develop and refine the system. Then in late 1999, Ethan and John brought in a third team member, Ray "DJ Raedawn" Pirtle, a dedicated student of turntablism who had been independently developing a similar transcription method with a focus on complex scratches. The Turntablist Transcription Methodology (TTM) vol 1.0 booklet released in 2000 and was the result of that trio's collaboration.
The TTM booklet has been downloaded, shared, and translated into Italian, French, Spanish as created by turntablist fans and enthusiasts. In 2001. In 2004, Scratch Magazine featured TTM in a reoccurring column that explained iconic hip-hop scratch patterns.
The TTM musical notation system has aided in communication and collaboration among DJs, turntablists, musicians, and producers. It has been recognized as the industry standard of musical notation for turntablists worldwide. The system is used by renowned DJ instructors at The Beat Junkies Institute of Sound, Electronic Music Collective, Scratch DJ Academy, School of Scratch, and Q-Bert's Skratch University.
DJ Shiftee explains the impact of TTM and the desire for a TTM software!
CONTACT
We are here to answer any questions you may have. Reach out to us and we'll respond as soon as we can. Email us at • info [ at ] ttm-dj.com
PRESS HIGHLIGHTS
TIME magazine | 2001
"Now Every Night He Saves a DJ's Life" by John Tyrangiel in 2001 TIME's Next Innovators in Music.
(link – Time Magazine archives)
Scratch Magazine | 2004-05
TTM transcriptions appear in a reoccurring column explaining iconic hip-hop scratch patterns.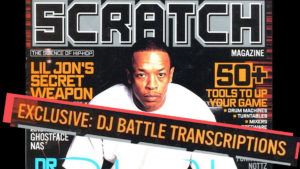 Note: DJ Raedawn's TTMacademy and the views and opinions expressed by DJ Raedawn are NOT associated with this website and the current work of TTM founder John Carluccio and TTM designer Ethan Imboden. DJ Raedawn (Ray Pirtle) was a very valuable part of the team in the production of the TTM booklet published in 2000, and the Scratch Magazine articles (2004-05). He has been credited in both these publications with the co-authors. Rae joined the project in December 1999, more than a year after Carluccio founded the project in 1997 (see press materials). We appreciate all the extremely hard work Rae did in collaboration with the team, and even though we disagree with Rae's interpretation of the origins of TTM, we wish him the very best in his personal efforts to further promote the art of DJing and Turntablism on his own individual platforms.
Copyright Info:
Carluccio, Imboden, and Pirtle are co-authors of the 2000 TTM booklet and are credited as copyright holders. As a joint author, each can control the copyrighted content individually or together, but cannot grant an exclusive license. Raymond Pirtle is NOT the exclusive copyright holder for TTM. Granting an exclusive license would directly harm the other joint authors, and thus require approval.
We welcome all opportunities to further promote and develop the TTM language. Any inquires can contact us at — info (at) ttm-dj.com
© TURNTABLIST | This website contains portions of The TTM booklet © 2000, John Carluccio, Ethan Imboden, Ray Pirtle